NEUROTOXINS (Botox®, Xeomin®, Dysport®, and Jeuveau®)
Noticeable results…No surgery…No recovery time!
There are many different reasons that patients choose to receive Neurotoxin treatment, from wanting to remove fine lines and wrinkles to treating more severe conditions such as TMJ and chronic migraines. Neurotoxin treatment can help relieve many of the symptoms that make you feel less confident, and help you achieve a more youthful, radiant appearance.
HOW DO NEUROTOXINS WORK?
Neurotoxins use a special protein to block overactive nerve impulses, restricting muscle contractions. In doing so, this helps relax the muscles beneath the skin, so that fine lines and wrinkles become less visible, giving the skin a healthy, more youthful appearance. The most common areas for treatment include:
Forehead wrinkles and furrows
Frown lines, also called 11's or glabellar lines
Crow's feet at the sides of your eyes
Bunny lines at the top of your nose
Other areas that can be treated include lifting droopy eyebrows or injecting along the lip border to create a "lip-flip" to make one's natural lip appear larger. Vertical "smokers lines" can also be improved with these products.
Neurotoxins are also used to relieve the symptoms of TMJ by reducing the amount of pressure placed on the jaw muscles when you clench and grind your teeth. In these cases, by reducing the amount of stress placed on the teeth and jaw muscles, the patients feel more comfortable and confident.
HOW LONG DOES IT TAKE TO WORK AND HOW LONG WILL IT LAST?
It usually takes 3-5 days to start working and up to two weeks for the full effect. Depending on each individual case, results typically last between two and four months. Treatment is temporary, and once the neurotoxin begins to wear off, the skin will return to the way it looked before treatment.
HOW DO MUSCLES CAUSE WRINKLES?
Neuortoxins work on a type of muscle called "dynamic muscle." These muscles constantly push your skin into creases and folds when you make expressions such as frowning, squinting, or raising your eyebrows.
When you're younger, your skin is thick and pliable enough to return to its original shape after making an expression. With age, however, your skin stops producing key building blocks, such as the proteins collagen and elastin. Your skin becomes thinner, more delicate, and can't "bounce back."
The neurotoxin effectively erases wrinkles caused by dynamic muscles by relaxing the muscles enough so that they can't press your skin into folds. Your skin smooths out, looking silkier and line-free.
AM I A GOOD CANDIDATE FOR NEUROTOXIN TREATMENT?
It may or may not be the right treatment for you. The best candidates for treatment are:
Between the ages of 18 and 65
Concerned with removing wrinkles and fine lines
Looking for a non-surgical skin treatment
Aware that the results are temporary
In good physical and psychological health
Diagnosed with, and experiencing discomfort from, TMJ
Willing to discuss their concerns and desires with their dentist before treatment
If you feel that you are a good candidate for a neurotoxin treatment, and are interested in learning more, please contact our practice to schedule a consultation. We will be happy to answer any questions you may have.
HOW MUCH NEUROTOXIN WILL I NEED?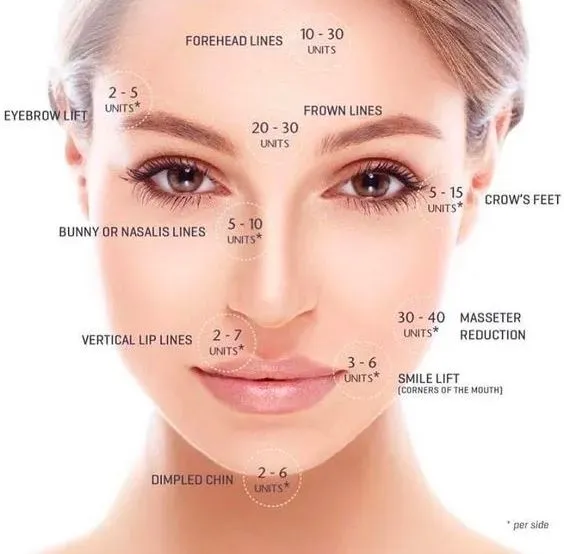 DERMAL FILLERS – CREATE A BEAUTIFUL, YOUNG-LOOKING FRAME AROUND YOUR SMILE!
Dermal fillers are an increasingly popular means to help reverse the changes associated with aging. Because the goal is to return the skin to its original youthful state, dermal fillers can give a more natural appearance than surgical face lifts. Dermal fillers can be used to reduce or eliminate wrinkles, raise scar depressions, enhance lips, and replace soft-tissue volume loss. Dermal fillers are a gel-like substances used to restore lost volume, smooth lines and soften creases. While dermal fillers are casually known as "wrinkle fillers," they can do much more than just smooth out wrinkles. Here are a few of the common issues dermal fillers can help address:
Smooth out lines around nose and mouth (a.k.a. marionette lines, smile lines, and parentheses)
Enhance & restore volume to sunken cheeks or temples
Diminish vertical lip lines
Improve symmetry among facial features
As our skin ages, the skin gradually loses its major constituents: collagen, elastin, and hyaluronic acid. Collagen acts as the major support protein for our skin, elastin allows our skin to stay firm and resist wrinkles, and hyaluronic acid helps to trap water and add volume and shape to our skin.
Dermal fillers are substances that are injected just below the surface of the skin to fill in lines, wrinkles, and scars. Unlike face lifts that stretch the skin, fillers add volume for a more natural, youthful appearance. Fillers can also increase the fullness of the lips and lessen the downward slant of the corner of lips. The most common areas treated are the lips, smile lines around the nose (naso-labial folds) and smile lines around the mouth (marionette lines).
WHY SEE A DENTIST ABOUT DERMAL FILLERS?
Dr. Frey has undergone extensive clinical training in the administration of injectable facial esthetic treatments and can discuss all of your facial/esthetic concerns, including your smile and teeth. While the procedure to administer dermal fillers is relatively pain free, if you are concerned at all, Dr. Frey is happy to numb the area to be treated with a typical dental block.
ARE DERMAL FILLERS SAFE
Dermal fillers approved by the Food and Drug Administration (FDA) are minimally invasive and generally very safe. Side effects are uncommon, but it is important to discuss any allergies, medical conditions or other interactions that may effect the outcome of treatment.
HOW LONG DO DERMAL FILLERS LAST?
The effect of dermal fillers typically last anywhere from six to 12 months at which point the procedure may need to be repeated. The procedures usually takes 30 - 60 minutes to complete.
Contact our office to learn about improving the look of your smile with dermal fillers.
INFORMED CONSENT FOR BOTULINUM TOXIN TREATMENT